Posted by vostorga - 11/12/08 at 07:12:56 am
Recientemente me "regalaron" una memoria Markvision de esas que son feas pero que no caen mal 😛 y traía un volante con el siguiente texto:
y pensé que seguramente era alguna empresa extranjera haciéndose publicidad, al visualizar los archivos contenidos en la USB me encontré con lo siguiente: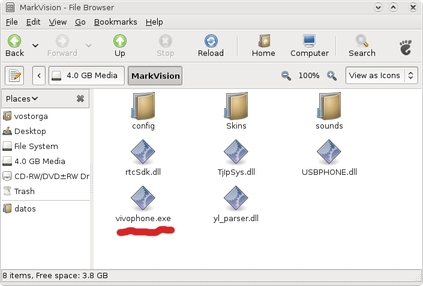 Léase el archivo "vivophone.exe" , ese es seguramente otro producto calidad OpenRanger quienes han hecho una alianza internacional!
3 Comments »
RSS feed for comments on this post. TrackBack URI
Using Mozilla Firefox 3.0.5 on Gentoo Linux

mi pendrive markvision actualmente quemado =_= me vino con eso cosa que nunca use al parecer te dan 30 minutos gratis para llamar desde tu pc a cualquier numero telefonico normal o algo asi por el estilo, peor bueh! cuando vi eso lo primero que hise fue darle formato xD

Using Internet Explorer 7.0 on Windows XP

I buy the usb memory MarkVision talent I think is the best brand
Workers also a very attractive design and I am very interested to know the proper functioning of the IP I am a Colombian by assiduous technology

dear

marlon ballesteros mantilla

Comment by marlon ballesteros mantilla — March 10, 2009 #

Using Mozilla Firefox 3.0.5 on Windows XP

Bueno yo tambien he podido adquirir esa memoria y tambien traia la oferta de los 30 minutos gratis. Por ahora no me puedo quejar de la memoria pero quisiera intentar usar esos minutos gratis para ver si de verdad todo es gratis. Lo malo es que se me perdio uno de los componentes rtcSdk.dll para ser mas preciso, he buscado por todos lados en internet y no he podido encontrar algo, solo aqui en tu pagina. Sin eso no puedo abrir vivophone.exe
Quisiera saber si todavia tenes esa memoria y ese archivo y ver si me podrias mandar ese famoso rtcSdk.dll.
Gracias por contestarme.
Salu

Comment by luis garcia — August 12, 2009 #
Leave a comment
Powered by WordPress with GimpStyle Theme design by Horacio Bella.
Entries and comments feeds. Valid XHTML and CSS.