Posted by vostorga - 30/09/08 at 11:09:07 am
Vagando por la red me he encontrado por el sitio http://sunfreeware.com el cual incluye un amplio repertorio para las siguientes combinaciones en Solaris :
Sparc / Solaris 2.5 , 2.6 , 7, 8, 9, 10
x86 / Solaris 2.5, 2.6, 7, 8, 9, 10
Lo interesante es que explica como instalar cada software, además de describir algunos "trucos" y en algunos casos, las limitaciones del software en Solaris
Así que no hay excusas para probar software libre en los Unix!
Posted by vostorga - 25/09/08 at 11:09:42 am
Una brevísima introducción a avahi
Avahi es una implementación del concepto "exploración de la red para descubrir servicios", en otras palabras del estándar Zeroconf , utilizado por ejemplo para descubrir impresoras de red, compartidos de win2, servidores ftp, hosts, mas que todo en LANs.
Avahi no es exclusivo de GNU/Linux, sino que hay implementaciones en otros sistemas operativos, por ejemplo el famoso Bonjour de OS X.
El bug
Recientemente revisando rutinariamente los logs me fijé en lo siguiente:
…
Sep 24 08:38:57 phoenix ath_pci: wifi0: Atheros 5424/2424: mem=0xf2000000, irq=16
Sep 24 14:38:57 phoenix avahi-daemon[11671]: Joining mDNS multicast group on interface wlan0.IPv4 with address 192.168.11.70.
Sep 24 14:38:57 phoenix avahi-daemon[11671]: New relevant interface wlan0.IPv4 for mDNS.
Sep 24 14:38:57 phoenix avahi-daemon[11671]: Registering new address record for 192.168.11.70 on wlan0.IPv4.
Sep 24 08:41:48 phoenix acpid: received event "ac_adapter ACAD 00000080 00000001"
Sep 24 08:41:48 phoenix acpid: notifying client 6097[106:1009]
…
Como se puede notar la fecha reportada en el syslog en las líneas correspondientes a avahi se muestran incorrectamente e investigando esto se debe a que avahi corre en un chroot y no maneja bien la configuración de zonas horarias; la solución para que se muestre correctamente es copiar el archivo tz en el directorio /etc/avahi
# mkdir /etc/avahi/etc
#cp /etc/localtime /etc/avahi/etc/
Reiniciamos el servicio y listo.
Hay un ticket sobre lo anterior en http://avahi.org/ticket/221
Posted by vostorga - 13/09/08 at 04:09:06 pm
Navegando por el sitio de taca me encontré con lo siguiente: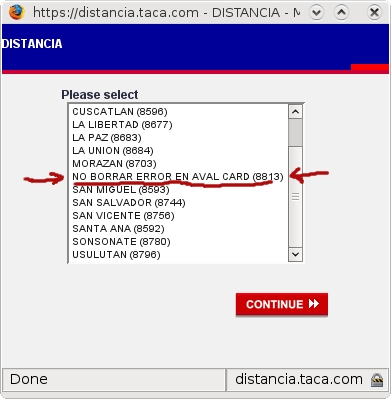 Otra de las razones de mi pánico del uso de tarjetas en línea
Posted by vostorga - 08/09/08 at 02:09:59 pm
Personalmente prefiero gnome y ocupo su gestor de protectores de pantalla, por lo que no tengo instalado xscreensaver.
Pero sucede que quiero probar un protector de pantalla y tiene archivos .xml que son característicos de xscreensaver, he aquí los pasos para poder gestionar el protector de pantalla a través de gnome:
Creamos un directorio temporal, en mi caso /tmp/bleh y luego nos ubicamos ahí
# mkdir /tmp/bleh
# cd /tmp/bleh
Descomprimo el screen saver en cuestión (cornellgolf en mi caso)
# unzip /home/vostorga/cornell-bin.zip
inflating: usr/lib/xscreensaver/cornellgolf
inflating: usr/share/xscreensaver/config/cornellbox.xml
Copiamos el script migrate-xscreensaver-config.bz2 y el archivo xscreensaver-config.xsl.bz2 . En mi caso la localización de esos archivos es /usr/share/doc/gnome-screensaver-2.22.2 pero puede variar de acuerdo a la Distribución Linux y versión de Gnome que se utilice, además notese que los tengo con extensión bz2 y es necesario descomprimirlos
# cp /usr/share/doc/gnome-screensaver-2.22.2/migrate-xscreensaver-config.sh.bz2 .
# cp /usr/share/doc/gnome-screensaver-2.22.2/xscreensaver-config.xsl.bz2 .
# bunzip2 *bz2
Se ejecuta el script que convierte los .xml a .desktop que es el formato que entiende Gnome
#chmod +x migrate-xscreensaver-config.sh
# ./migrate-xscreensaver-config.sh *xml
Creating: cornellgolf.desktop
Se mueve el archivo creado por el script a la localización de configuraciones de protector de pantalla de gnome
# mv *desktop /usr/share/applications/screensavers/
Movemos el ejecutable a un directorio especifico de gnome
# mv cornellgolf /usr/libexec/gnome-screensaver/
Procedemos a verificar que el recién configurado protector de pantalla se muestre en las preferencias de Gnome, eso se puede utilizando el menú Sistema=>Preferencias=>Protector de pantalla o el comando gnome-screensaver-preferences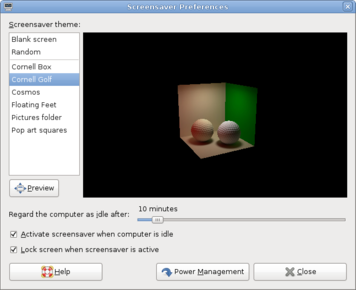 Listo, podemos migrar cuantos protectores de xscreensaver queramos.
Powered by WordPress with GimpStyle Theme design by Horacio Bella.
Entries and comments feeds. Valid XHTML and CSS.