Posted by vostorga - 29/03/09 at 03:03:23 pm
Accidentalmente encontré lo siguiente en el archivo prefs.js de mi perfil de Mozilla Firefox:
user_pref("urlclassifier.keyupdatetime.https://sb-ssl.google.com/safebrowsing/newkey", 1239679819);
Con google convirtiéndose en el monopolio informático del siglo XXI, NO QUIERO que mi información de navegación se almacene en alguna de sus bases de datos.
Haciendo un poco de búsqueda la conexión a ese sitio es conocido como "Safe Browsing", en resumidas cuentas se conecta a esta dirección para comprobar si un sitio es "Seguro o no". Desactivarlo es tan fácil como dirigirse a about:config y cambiar el valor de browser.safebrowsing.enabled y browser.safebrowsing.malware.enabled a false (doble click encima de sus nombres y se desactiva).
Lamentablemente, esa no es la única "característica" por la  que Firefox intentará conectarse a un sitio web a nuestras espaldas, otro ejemplo es:
Sugerencias al escribir en la "barra de búsqueda"
Aunque sepamos que vamos a buscar (creo que eso es la mayoría de casos cierto?) siempre se conecta a google para darnos "sugerencias de búsqueda".
Para desactivarlo establecemos  Browser.search.suggest.enabled a false
Keywords (sugerencia al escribir en la barra de direcciones)
La característica de las sugerencias al escribir una dirección web es sin duda una gran ayuda, hasta que nos damos cuenta que cada teclazo manda un request a google.
Para desactivarlo se establece keyword.enable a false
Y la lista continúa, pero me salvó el hecho de encontrar el link http://support.mozilla.com/en-US/kb/Firefox+makes+unrequested+connections donde habla de las conexiones "indeseadas de firefox" a otros sitios.
Una advertencia es que alguna de estas conexiones puede ayudar a aquellos usuarios que ingresan a cualquier sitio web sin medir las consecuencias, pero que definitivamente afecta la privacidad de todos.
Posted by vostorga - 25/03/09 at 09:03:37 pm
Recientemente me fijé que un Linux Box tardaba demasiado tiempo (unos 6 segundos) para pedirme la contraseña una vez ingresado el comando ssh user@ip
Haciendo una depuración del lado del cliente, se mostraba lo siguiente:
debug2: set_newkeys: mode 1
debug1: SSH2_MSG_NEWKEYS sent
debug1: expecting SSH2_MSG_NEWKEYS
debug2: set_newkeys: mode 0
debug1: SSH2_MSG_NEWKEYS received
debug1: SSH2_MSG_SERVICE_REQUEST sent
debug2: service_accept: ssh-userauth
debug1: SSH2_MSG_SERVICE_ACCEPT received
debug2: key: /home/vostorga/.ssh/id_rsa
debug2: key: /home/vostorga/.ssh/id_dsa

<una pausa de 6 segundos>

debug1: Authentications that can continue: publickey,password
debug1: Next authentication method: publickey
debug1: Offering public key: /home/vostorga/.ssh/id_rsa
debug2: we sent a publickey packet, wait for reply
debug1: Authentications that can continue: publickey,password
debug1: Trying private key: /home/vostorga/.ssh/id_dsa
debug2: we did not send a packet, disable method
debug1: Next authentication method: password
root@192.168.x.x's password:
Al principio pensé que había algún problema con los tipos de autenticación disponibles en el servidor, pero viendo un problema parecido del joven jmaslibre con su DNS, me puse a revisar la configuración de dns del servidor OpenSSH, en otras palabras /etc/hosts y /etc/resolv.conf y resultó que la IP especificada en /etc/resolv.conf no  estaba ofreciendo DNS.
Lo curioso es que si no se especificaba servidor DNS o se agregaba otro, funcionaba correctamente, a pesar de estar trabajando en una LAN.
El servidor OpenSSH quería hacer una resolución inversa y esos segundos de pausa era el intento fallido de realizar dicha operación, por lo que las soluciones pueden incluir:
Verificar /etc/hosts
Verificar que /etc/resolv.conf no contengan servidores inválidos
Deshabilitar en el archivo sshd_config la resolución inversa con el parámetro UseDNS no
Posted by vostorga - 16/03/09 at 09:03:48 am
Antes de cualquier cosa, me refiero al caso del cliente Lotus Notes 8.0 bajo GNU/Linux.
En resumen Lotus Notes 8.0 no arranca con las librerías xulrunner nuevas (aquellas ocupadas en Mozilla Firefox 3), dando el siguiente error:
JVM terminated. Exit code=160
y revisando los logs del crash, me encuentro las siguientes lineas:
1XHEXCPCODE J9Generic_Signal_Number: 00000004
1XHEXCPCODE Signal_Number: 0000000B
1XHEXCPCODE Error_Value: 00000000
1XHEXCPCODE Signal_Code: 00000001
1XHEXCPCODE Handler1: B7D234F0
1XHEXCPCODE Handler2: B7CF0477
1XHEXCPCODE InaccessibleAddress: 613CFF20
NULL
1XHEXCPMODULE Module: /usr/lib/xulrunner-1.9/libxul.so
1XHEXCPMODULE Module_base_address: 8C45A000
NULL
La razón del fallo, fue por la utilización de las librerías xulrunner que acompañan a firefox 3, debido a que Eclipse (Notes ocupa internamente a Eclipse) esperaba que estuviera instalada una vieja version de xulrunner.
Para poder seguir ejecutando el notes hay dos soluciones:
Instalar xulrunner de firefox 2 para todo el sistema y firefox 3 en un directorio específico
Cambiar LD_LIBRARY_PATH apuntando a una librería xulrunner vieja
Se menciona que en Lotus Notes 8.5 este problema está solucionado, pero no lo he probado aún.
Posted by vostorga - 10/03/09 at 08:03:57 am
Aunque escribo tarde este post, realmente tarde, era necesario hacerlo, y es que un 5 de marzo hace tres años perdimos a un gran amigo, Kirlian Zepeda, miembro fundador del grupo Linux de El Salvador y que para este servidor fue un amigo, maestro y consejero.
Sin duda alguna el fue un ejemplo de auto-superación y de lucha, un ejemplo que para alcanzar nuestras metas solamente hay que meterle muchas ganas.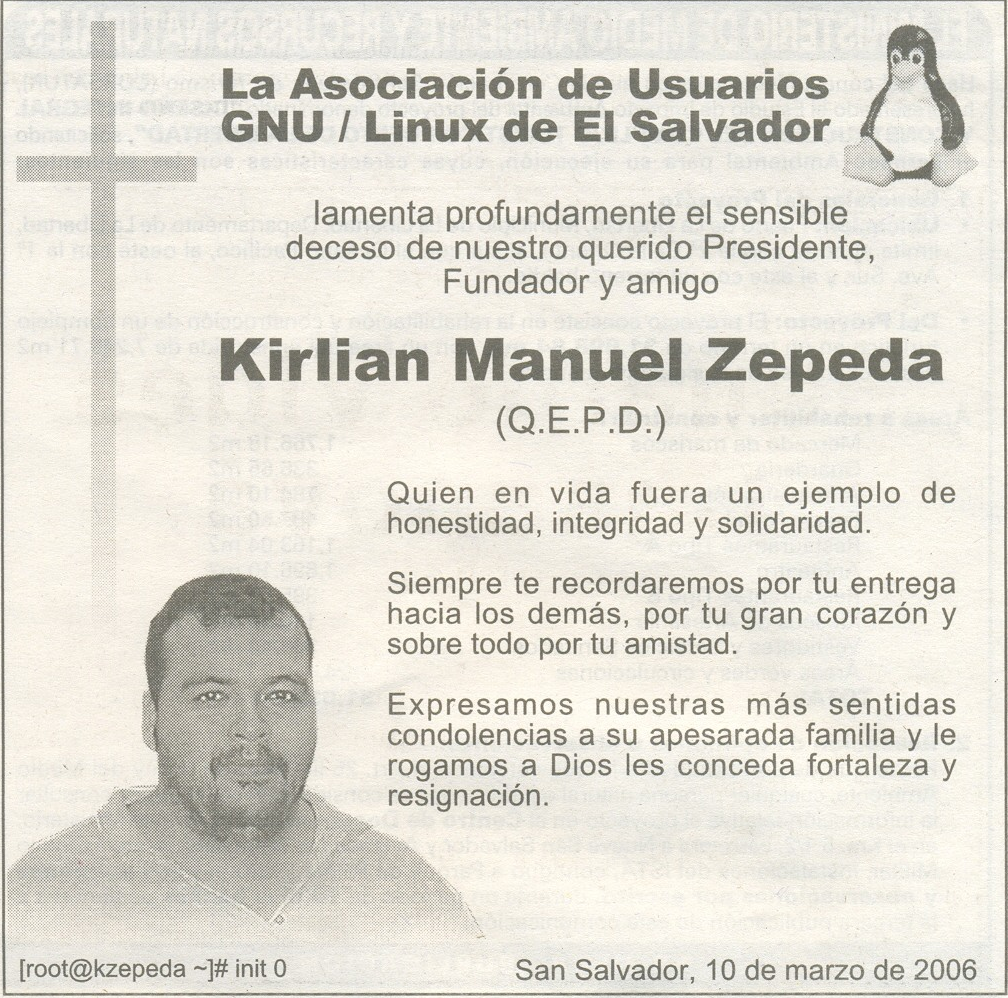 Powered by WordPress with GimpStyle Theme design by Horacio Bella.
Entries and comments feeds. Valid XHTML and CSS.