Posted by vostorga - 31/07/08 at 06:07:04 pm
En Gnome recién instalado, el navegador por defecto suele ser Epiphany, lo cual no es conveniente para muchos de nosotros, pero Gnome ofrece una forma rápida para cambiar el navegador por defecto:
Ejecutar el siguiente comando en una terminal:
$ gnome-default-applications-properties
O alternativamente irnos al menú Sistema=>Preferencias=>Aplicaciones Preferidas
Lo cual nos muestra la siguiente ventana: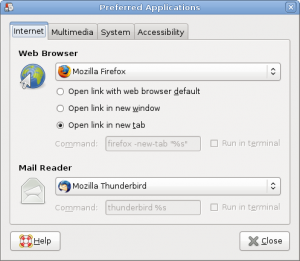 Nos dirigimos a la ficha Internet y podremos seleccionar el navegador de una lista desplegable, que en mi caso es Mozilla Firefox, en caso que no aparezca en la lista podremos especificar el comando que lanza nuestro navegador preferido que en el caso de firefox es: /usr/lib/firefox/firefox "%s"
Además podremos modificar las aplicaciones predeterminadas para lectura de correo, multimedia, terminal entre otros.
2 Comments »
RSS feed for comments on this post. TrackBack URI
Using Debian IceWeasel 3.0.9 on Debian GNU/Linux

Información concisa y correcta 😀
Gracias por la información
Leave a comment
Powered by WordPress with GimpStyle Theme design by Horacio Bella.
Entries and comments feeds. Valid XHTML and CSS.