Posted by vostorga - 28/04/08 at 10:04:13 am
Por cuestiones laborales hace un par de meses se me proporcionó un modem Edge para poder conectarme a Internet desde cualquier lugar en el que hubiera señal de celular de la compañía Digicel, el módem es similar al de este link . Pero resultó que había poca o nula información de algún módulo con el que se pudiera hacer funcionar el módem, ya que en su momento ni siquiera disponía del nombre del modelo ya que el aparato no muestra ninguna información.
Pero me di cuenta en el changelog del kernel 2.6.25-rc7 en este link, más resumido en este link de la inclusión en el kernel de un driver capaz de levantar dicho módem.
La salida del comando lsusb lo muestra así:
Bus 002 Device 020: ID 067b:0611 Prolific Technology, Inc. AlDiga AL-11U Quad-band GSM/GPRS/EDGE modem
Manos a la obra!
Compilando el kernel
Se necesita un kernel 2.6.25-rc7 o superior y dentro del mismo incluir, como módulo o incrustrado la opción "USB Prolific 2303 Single Port Serial Driver" que se encuentra en Device Drivers->USB Support->USB Serial Converter support , en mi caso lo incluí como módulo para realizar pruebas, si ese es el caso tendrá por nombre pl2303.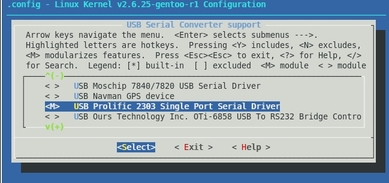 Luego de compilar el kernel y arrancar con el mismo, procedemos a conectar el modem, al hacerlo la salida del comando dmesg mostrará algo similar a lo siguiente:
pl2303 2-2:1.0: pl2303 converter detected
usb 2-2: pl2303 converter now attached to ttyUSB0
Si compilamos como módulo es posible que se necesite hacer un modprobe usbserial && modprobe pl2303 para que se detecte el dispositivo.
Dado que sabemos que el dispositivo está representado por ttyUSB0 , podemos proceder a configurar el archivo wvdial.conf
Configurando wvdial
En mi caso el comando de autocreación del archivo wvdial.conf, wvdialconf no me funcionó, por lo que tuve que armar el archivo desde cero, el archivo wvdial.conf queda de la siguiente manera:
Modem = /dev/ttyUSB0
Init1 = ATZ
Init2 = ATQ0 V1 E1 S0=0 &C1 &D2 +FCLASS=0
Init3 = AT+CGDCONT=1,"IP","web.digicelsv.com"
Phone = *99#
ISDN = 0
Username = blah
Password = bleh
Baud = 460800
Stupid Mode = On
Luego solo nos restará ejecutar el wvdial, y tendremos disponible Internet a velocidad Edge!
Powered by WordPress with GimpStyle Theme design by Horacio Bella.
Entries and comments feeds. Valid XHTML and CSS.