Posted by vostorga - 19/04/09 at 07:04:33 pm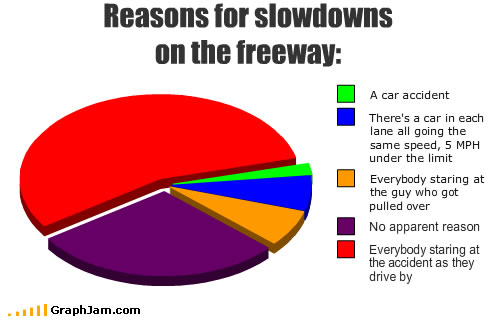 Muy cierto
Yo manejo a diario en la autopista y de pronto suceden las trabazones, y lo primero que se le ocurre a uno es "hubo un choque". Y si, sucedió un choque, pero la trabazón no es porque los carros involucrados en el choque eviten el tráfico fluido, sino por todos los mirones (que no se que buscan) que van a 1 km/h viendo el show.
Otra que suele suceder es que vayan dos camiones en los dos carriles en un concurso de quien va mas lento.
Muy acertado el gráfico.
No Comments yet »
RSS feed for comments on this post. TrackBack URI
Leave a comment
Powered by WordPress with GimpStyle Theme design by Horacio Bella.
Entries and comments feeds. Valid XHTML and CSS.