Posted by vostorga - 08/09/08 at 02:09:59 pm
Personalmente prefiero gnome y ocupo su gestor de protectores de pantalla, por lo que no tengo instalado xscreensaver.
Pero sucede que quiero probar un protector de pantalla y tiene archivos .xml que son característicos de xscreensaver, he aquí los pasos para poder gestionar el protector de pantalla a través de gnome:
Creamos un directorio temporal, en mi caso /tmp/bleh y luego nos ubicamos ahí
# mkdir /tmp/bleh
# cd /tmp/bleh
Descomprimo el screen saver en cuestión (cornellgolf en mi caso)
# unzip /home/vostorga/cornell-bin.zip
inflating: usr/lib/xscreensaver/cornellgolf
inflating: usr/share/xscreensaver/config/cornellbox.xml
Copiamos el script migrate-xscreensaver-config.bz2 y el archivo xscreensaver-config.xsl.bz2 . En mi caso la localización de esos archivos es /usr/share/doc/gnome-screensaver-2.22.2 pero puede variar de acuerdo a la Distribución Linux y versión de Gnome que se utilice, además notese que los tengo con extensión bz2 y es necesario descomprimirlos
# cp /usr/share/doc/gnome-screensaver-2.22.2/migrate-xscreensaver-config.sh.bz2 .
# cp /usr/share/doc/gnome-screensaver-2.22.2/xscreensaver-config.xsl.bz2 .
# bunzip2 *bz2
Se ejecuta el script que convierte los .xml a .desktop que es el formato que entiende Gnome
#chmod +x migrate-xscreensaver-config.sh
# ./migrate-xscreensaver-config.sh *xml
Creating: cornellgolf.desktop
Se mueve el archivo creado por el script a la localización de configuraciones de protector de pantalla de gnome
# mv *desktop /usr/share/applications/screensavers/
Movemos el ejecutable a un directorio especifico de gnome
# mv cornellgolf /usr/libexec/gnome-screensaver/
Procedemos a verificar que el recién configurado protector de pantalla se muestre en las preferencias de Gnome, eso se puede utilizando el menú Sistema=>Preferencias=>Protector de pantalla o el comando gnome-screensaver-preferences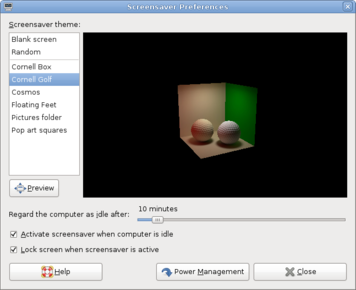 Listo, podemos migrar cuantos protectores de xscreensaver queramos.
No Comments yet »
RSS feed for comments on this post. TrackBack URI
Leave a comment
Powered by WordPress with GimpStyle Theme design by Horacio Bella.
Entries and comments feeds. Valid XHTML and CSS.